4-H Youth Development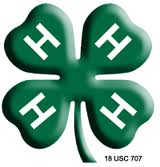 4-H is a community of young people across Kansas engaged in learning leadership, citizenship, and life skills. Caring adults that support our programs are essential for youth to achieve their potential based on the guidance, respect, skills, knowledge and wisdom adults can share. 4-H is a nationwide program.
Each of the four H's of the clover represent ways youth can grow and develop:
H ead, critical thinking, problem solving;
H eart, self-discipline, integrity, communication;
H ands, serving others; and
H ealth, choosing healthy lifestyles.
In 4-H, youth have fun with a purpose!
Who: Youth ages 5-18 years of age from across the county & adults of all ages working together.
What: Join a club that meets monthly to build life skills through hands-on learning experiences. These may include practicing parliamentary procedures during club meetings, giving a talk, making a project or carrying out community service projects.
How: 4-H uses research-based project information to empower youth to do things they've never done before in a creative and confident way. 4-H doesn't have a membership fee, although some projects have cost associated with them. Best of all, you can choose your level of participation - as much a or as little as you have time for.
When: 4-H organizes for the new year each October 1. Youth may join through out the year, but must join by May 1 if they intend to participate in the County Fair. (Some livestock and food projects have earlier enrollment deadlines. Visit with your local Extension Office for specific dates.)
4-H Teaches youth to analyze information, make decisions, communicate effectively, prepare for careers, serve their communities and plan for healthy lifestyles - all wile they're having fun. So go ahead - get involved in 4-H - and have some fun!
Upcoming 4-H Events:
June 6: Cattle Care Clinic Flyer
July 19-22: Rawlins County Free Fair More Information